NEXT MEETING

Sunday, March 17, 2019,  3:00 – 5:00 p.m., Ann Arbor District Library – Malletts Creek Branch, 3090 E. Eisenhower Parkway (east of Stone School Road), Ann Arbor, MI 48108
Plowed Under: Food Policy Protests and Performance in New Deal America presented by Ann Folino White, Associate Professor of Theatre Studies and Directing and Head of Theatre Studies, Michigan State University. 
During the Great Depression, with thousands on bread lines, farmers were instructed by the New Deal Agricultural Adjustment Act to produce less food in order to stabilize food prices and restore the market economy. Fruit was left to rot on trees, crops were plowed under, and millions of piglets and sows were slaughtered and discarded. Many Americans saw the government action as a senseless waste of food that left the hungry to starve, initiating public protests against food and farm policy. White approaches these events as performances where competing notions of morality and citizenship were acted out, often along lines marked by class, race, and gender. The actions range from the "Milk War" that pitted National Guardsmen against dairymen, who were dumping milk, to the meat boycott staged by Polish-American women in Michigan, and from the black sharecroppers' protest to restore agricultural jobs in Missouri to the protest theater of the Federal Theater Project. White provides a riveting account of the theatrical strategies used by consumers, farmers, agricultural laborers, and the federal government to negotiate competing rights to food and the moral contradictions of capitalist society in times of economic crisis.
Join Us!
Our membership year runs from September to September, so now is the perfect time to join CHAA. The annual membership is $25.  You can print out the membership form here.
The Culinary Historians of Ann Arbor (CHAA), founded in 1983 by Jan Longone and friends, is an organization of scholars, cooks, food writers, nutritionists, collectors, students, and others interested in the study of culinary history and gastronomy.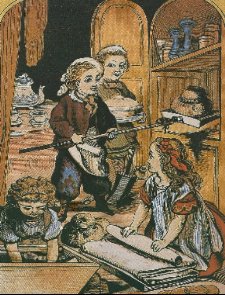 The mission of the group is to promote the study of culinary history through regular programs open to members and guests, through the quarterly publication Repast, and through exchanges of information with other such organizations.
Monthly meetings of the CHAA are held in Ann Arbor, Michigan, from September through May from 3:00-5:00 p.m. on the third Sunday of the month (unless otherwise announced).
Membership in CHAA is open to anyone interested in culinary history. Dues
are $25.00 for an individual or couple and include a subscription to Repast. The membership year is from September to September. For those who cannot attend meetings, a yearly subscription to Repast is $20.00.
Repast is the official quarterly publication of CHAA. Besides announcements of future meetings and reports of past meetings, it also contains feature articles, book reviews, a calendar of upcoming events of culinary interest, and special events. For information about contributing articles, placing information, announcements, or other regular features, contact the Editor.
Contribute to the CHAA Food Blog, where all members are invited to tell stories about their own adventures.  Access is limited right now, so just write your story and send it (with a visual if you like) to Judy Steeh.  … Continue reading →