Our next monthly meeting will be Sunday, January 17, 2016, 3:00 – 5:00 p.m., Ann Arbor Senior Center, 1320 Baldwin Ave., Ann Arbor  MI  48104.
Cookbooks from A to Z.  A trip through culinary madness from "The Alpha Bakery" and "The Phony Gourmet" to "Gone With the Grits," "Guac Off", "Seduction" and recipes for Spam, Spam, and more Spam.  What is it about Spam that causes those who have never tasted it to turn up their noses?  How did this canned meat become a term for unsolicited, undesired email?  And why do Hawaiians love it so?  Culinary Historians Co-chair Joanne Nesbit leads us on a tour of cookbook follies.  And, yes, Spam and other inspired delights  will be served for tasting.
DINING OUT: MENUS, CHEFS, RESTAURANTS, HOTELS AND GUIDE BOOKS



Dining out has become a recognized American pastime. But if you can't get to all the restaurants, diners, cafes, tearooms or hotels on your list of places to visit, the "Dining Out: Menus, Chefs, Restaurants, Hotels & Guidebooks" exhibition at the University of Michigan can take you there.  The exhibit runs through January 17, 2016, at the Clark Library on the second floor of UM's Hatcher Graduate Library.   Admission to the exhibition is free.
This wide-ranging exhibit, curated by historian Jan Longone, celebrates the history of the eating out experience. The documents on display in the Hatcher Graduate Library have been gleaned from the UM Special Collection Library's extensive Janice Bluestein Longone Culinary Archive (JBLCA) and include material from all 50 states and much more. The exhibition features such one-of-a-kinds as mid-19th century books about restaurants, chefs, and menus that show offerings of dishes no longer available or popular as well as the latest 21st century menus.  Follow these links for more details or to see some of images from the exhibition.

 Contact jblong@umich.edu for further information.

Join Us – Or Renew Your Membership Now
Our membership year runs from September to September, so now is the perfect time to join CHAA or renew your membership.  You can print out the membership form here.  Current members, please note: you must renew by October 31 if you wish to remain on the mailing list.
The Culinary Historians of Ann Arbor (CHAA), founded in 1983 by Jan Longone and friends, is an organization of scholars, cooks, food writers, nutritionists, collectors, students, and others interested in the study of culinary history and gastronomy.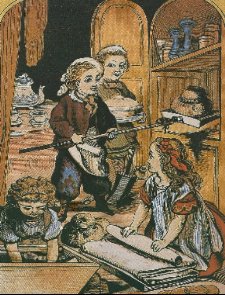 The mission of the group is to promote the study of culinary history through regular programs open to members and guests, through the quarterly publication Repast, and through exchanges of information with other such organizations.
Monthly meetings of the CHAA are held in Ann Arbor, Michigan, from September through May from 4:00-6:00 p.m. on the third Sunday of the month (unless otherwise announced).
Membership in CHAA is open to anyone interested in culinary history. Dues
are $25.00 for an individual or couple and include a subscription to Repast. The membership year is from September to September. For those who cannot attend meetings, a yearly subscription to Repast is $20.00.
Repast is the official quarterly publication of CHAA. Besides announcements of future meetings and reports of past meetings, it also contains feature articles, book reviews, a calendar of upcoming events of culinary interest, and special events. For information about contributing articles, placing information, announcements, or other regular features, contact the Editor.
Contribute to the CHAA Food Blog, where all members are invited to tell stories about their own adventures.  Access is limited right now, so just write your story and send it (with a visual if you like) to Judy Steeh.  … Continue reading →