Sunday, May 20, 20182018, 3:00 – 5:00 p.m., Ann Arbor District Library – Malletts Creek Branch, 3090 E. Eisenhower Parkway (east of Stone School Road), Ann Arbor, MI 48108
Farm Meals Mentioned in Ypsilanti Farm Diaries
The stories and recollections of Washtenaw County farm women held by the Ypsilanti Historical Society provide a record of daily life in the 19th and 20th centuries.  Local author and historian Laura Bien presents research on handwritten diaries that reflect in their own words the everyday work farm women performed:  gardening, harvesting, butchering, processing, preserving and cooking food for their families, supplementing the family income through the sale of eggs and produce, adapting to technological changes, and organizing work at the homestead. Laura Bien's talk will be the jumping off point for our Summer Picnic theme: an authentic seasonal farm meal from the 1800's. She will provide a bibliography of sources of historic local recipes we'll use to prepare this annual shared potluck — always a highlight of the summer!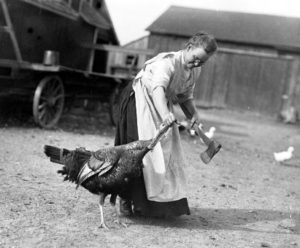 Sunday, July 15, 2018, 4:00 – 7:00 pm, Ladies' Literary Club of Ypsilanti, 218 North Washington St, Ypsilanti, Michigan
Shared Meal: A Seasonal Farm Meal from 19th Century Michigan
No one is expected to actually kill a turkey, but for this summer's shared meal we'll recreate an authentic farm meal from historic local recipes such as sarsaparilla syrup, roasted duck, pie plant (rhubarb), pear pickles, ginger snaps, molasses cake, transparent pie, chicken pot pie, turkey, cherry pie and preserves, bread, cider, potatoes, roast beef, soup hickory nuts, walnuts, applesauce, etc. This event is open only to members ($5.00) and their guests ($10.00). Table service and non-alcoholic beverages are provided; you may bring wine or beer if you like. Come to the May meeting for inspiration and look for more information to arrive in your email Inbox soon.
Join Us!
Our membership year runs from September to September, so now is the perfect time to join CHAA. The annual membership is $25.  You can print out the membership form here.
The Culinary Historians of Ann Arbor (CHAA), founded in 1983 by Jan Longone and friends, is an organization of scholars, cooks, food writers, nutritionists, collectors, students, and others interested in the study of culinary history and gastronomy.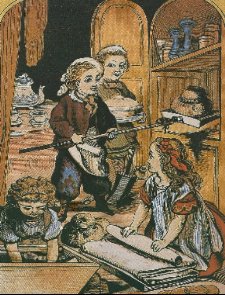 The mission of the group is to promote the study of culinary history through regular programs open to members and guests, through the quarterly publication Repast, and through exchanges of information with other such organizations.
Monthly meetings of the CHAA are held in Ann Arbor, Michigan, from September through May from 4:00-6:00 p.m. on the third Sunday of the month (unless otherwise announced).
Membership in CHAA is open to anyone interested in culinary history. Dues
are $25.00 for an individual or couple and include a subscription to Repast. The membership year is from September to September. For those who cannot attend meetings, a yearly subscription to Repast is $20.00.
Repast is the official quarterly publication of CHAA. Besides announcements of future meetings and reports of past meetings, it also contains feature articles, book reviews, a calendar of upcoming events of culinary interest, and special events. For information about contributing articles, placing information, announcements, or other regular features, contact the Editor.
Contribute to the CHAA Food Blog, where all members are invited to tell stories about their own adventures.  Access is limited right now, so just write your story and send it (with a visual if you like) to Judy Steeh.  … Continue reading →