About 35 members and their guests brought delicious 19th Century farm dishes to our summer shared meal at the Ladies' Literary Club in Ypsilanti. Now we'll take a month off, and resume our regular series of meetings at Mallet's Creek library in September.  Here's a preview of coming attractions:
Sunday, September 16, 2018: 3:00 – 5:00 p.m., Ann Arbor District Library – Malletts Creek Branch, 3090 E. Eisenhower Parkway (east of Stone School Road), Ann Arbor, MI 48108 
Long, Cold and Slow: Bringing Bread to Life or Raising the Bread 
Most people think of sourdough as a "flavor" of bread — as in, would you like rye, sourdough, or wheat with that? Or as sorcery — a huddled baker conjuring loaves from a burbling container of living micro beasts. Yet sourdough is both and neither. In its most basic definition, sourdough is simply the method of leavening and indicates how a bread is made. Stephanie Ariganello and Jeremiah Kouhia of the Mother Loaf Breads bakery in Milan will briefly explore the long and crunchy history of sourdough and the basics of how they make their long, cold, slow fermentation loaves. They'll also dive into the most important aspect of producing sourdough breads: why.
Sunday, October 21, 2018:
Well of the Sea
Margaret Carney, a member of the Culinary Historians of Ann Arbor and director and curator of the International Museum of Dinnerware Design will present  "Well of the Sea," all about the acclaimed seafood restaurant located in Chicago's Hotel Sherman between 1948-1972.  Why was dining there so memorable?  Culinary historians may be captivated by the menu — bouillabaisse, rijstafel of seafood, cafe disable, and flaming rum punch.; Mid-Century Modern art connoisseurs have fixated on the abstract undersea murals designed by Richard Koppe; while dinnerware collectors can not own too many place settings of the sturdy Shenango China restaurant quality dishes with abstract fish motifs.  Cuisine, recipes, restaurant reviews, menus, distinct dinnerware, architecture and interior design will all be presented. Why did Bogey and Bacall attend the funeral of the hotelier and restaurateur who made his idea of the Well of the Sea a reality? Were the ultraviolet lights, which enhanced the sensation of dining under water, really beneficial to one's health? It's your best opportunity  get the true flavor of the Well of the Sea and then wish  you could go back in time and dine there.
 HAVE A GREAT SUMMER!

Join Us!
Our membership year runs from September to September, so now is the perfect time to join CHAA. The annual membership is $25.  You can print out the membership form here.
The Culinary Historians of Ann Arbor (CHAA), founded in 1983 by Jan Longone and friends, is an organization of scholars, cooks, food writers, nutritionists, collectors, students, and others interested in the study of culinary history and gastronomy.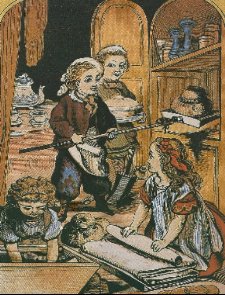 The mission of the group is to promote the study of culinary history through regular programs open to members and guests, through the quarterly publication Repast, and through exchanges of information with other such organizations.
Monthly meetings of the CHAA are held in Ann Arbor, Michigan, from September through May from 4:00-6:00 p.m. on the third Sunday of the month (unless otherwise announced).
Membership in CHAA is open to anyone interested in culinary history. Dues
are $25.00 for an individual or couple and include a subscription to Repast. The membership year is from September to September. For those who cannot attend meetings, a yearly subscription to Repast is $20.00.
Repast is the official quarterly publication of CHAA. Besides announcements of future meetings and reports of past meetings, it also contains feature articles, book reviews, a calendar of upcoming events of culinary interest, and special events. For information about contributing articles, placing information, announcements, or other regular features, contact the Editor.
Contribute to the CHAA Food Blog, where all members are invited to tell stories about their own adventures.  Access is limited right now, so just write your story and send it (with a visual if you like) to Judy Steeh.  … Continue reading →