Our monthly meetings will resume in September. Most meetings are held at the Mallett's Creek Branch of the Ann Arbor District Library, 3090 Eisenhower Parkway, Ann Arbor on the third Sunday of the month at 3 pm.
Summer Members-Only Event:  International Vegetarian Cooking 
SUNDAY, July 16, 2017 – 4:00 to 7:00 PM at the Ladies' Literary Club of Ypsilanti, 218 North Washington Street, Ypsilanti, Michigan 48197
Every culture has vegetarian dishes – whether by force or by design – and many have excelled at vegetarian cookery.  Even cultures with heavy meat consumption have non-meat dishes – be it coleslaw, mashed potatoes, bread or just boiled beans.  By cooking with only vegetables we ought not to feel we are limiting our choice of foods, but that we are expanding into an almost limitless variety of foodstuffs and dishes.  Let's celebrate summer's early harvest with fresh vegetables that are available locally and with the amazing array we find in our grocery stores and supermarkets.  By "vegetarian" we mean no red meats, poultry, fish or seafood.
        Reservations and checks should be sent by US Mail to Phil Zaret.  Please make your reservation for this members-only event as soon as you can. Click for a downloadable
reservation form
and for
more information
.
Join Us!
Our membership year runs from September to September, so now is the perfect time to join CHAA. The annual membership is $25.  You can print out the membership form here.
The Culinary Historians of Ann Arbor (CHAA), founded in 1983 by Jan Longone and friends, is an organization of scholars, cooks, food writers, nutritionists, collectors, students, and others interested in the study of culinary history and gastronomy.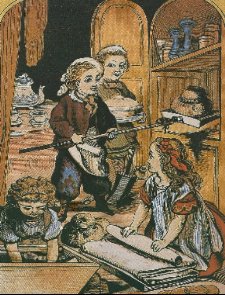 The mission of the group is to promote the study of culinary history through regular programs open to members and guests, through the quarterly publication Repast, and through exchanges of information with other such organizations.
Monthly meetings of the CHAA are held in Ann Arbor, Michigan, from September through May from 4:00-6:00 p.m. on the third Sunday of the month (unless otherwise announced).
Membership in CHAA is open to anyone interested in culinary history. Dues
are $25.00 for an individual or couple and include a subscription to Repast. The membership year is from September to September. For those who cannot attend meetings, a yearly subscription to Repast is $20.00.
Repast is the official quarterly publication of CHAA. Besides announcements of future meetings and reports of past meetings, it also contains feature articles, book reviews, a calendar of upcoming events of culinary interest, and special events. For information about contributing articles, placing information, announcements, or other regular features, contact the Editor.
Contribute to the CHAA Food Blog, where all members are invited to tell stories about their own adventures.  Access is limited right now, so just write your story and send it (with a visual if you like) to Judy Steeh.  … Continue reading →