Forty Years of Zingerman's and Its Impact on the Global Food World
Sunday, September 18, 4 p.m. Eastern
Ann Arbor District Library – Downtown
343 South Fifth Avenue – Google Maps
Ann Arbor, Michigan 48104
Also streaming live on YouTube (link will be posted here in September)
We are delighted to start off our fall schedule *in-person* with a presentation by Micheline Maynard, author of the newly published Satisfaction Guaranteed: How Zingerman's Built a Corner Deli into a Global Food Community.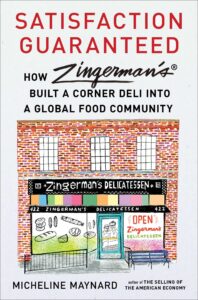 Certain businesses are legendary, exerting immense influence in their field. Zingerman's in Ann Arbor, Michigan, is one of those places. Over the years the flagship deli has expanded into a community of more than a dozen businesses, including a wildly successful mail order operation, restaurants, bakery, coffee roastery, creamery, candy maker and events space—transforming Ann Arbor into a destination for food lovers.
Founded in 1982 by Paul Saginaw and Ari Weinzweig, Zingerman's philosophy of good food, excellent service, and sound finances has turned it into a company whose reach spans all corners of the gourmet food world. Famous for its generous deli sandwiches, fresh bread, and flavorful coffee—all locally produced—Zingerman's is also widely celebrated for its superb customer service and employee equity. The culture is one of respect and innovation, while maintaining very high standards. It has legions of enthusiastic customers, fans across the food world, and business principles and a work ethic that have been admired, analyzed, and copied.
About the Speaker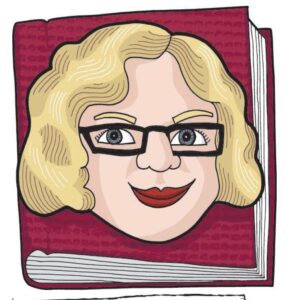 Micheline Maynard is a journalist, author and professor. She is a contributing columnist at the Washington Post, writing for the Voices Across America section of Post Opinions about business and culture. Micki is the creator of the CulinaryWoman Newsletter and podcast. and writes regularly about food topics for The Takeout, a digital news site.
She was a senior business correspondent and Detroit bureau chief for The New York Times. She served as senior editor for Here & Now, the daily NPR news program. She is the author of four other books, including The End of Detroit: How The Big Three Lost Their Grip On The American Car Market. An avid fan of jazz, baseball and classic film, she divides her time between Ann Arbor and New Orleans.
CHAA Meetings
The Culinary Historians generally meet on the third Sunday of the month at 4 p.m. Eastern, September through May. Meeting invitations are sent to members and other interested individuals, but all are welcome to attend. As the Covid pandemic continues, some of our meetings will be held in person at the downtown Ann Arbor District Library and streamed on YouTube, and some will be held online via Zoom.
Join Us
Our membership year runs from September to September. The annual membership is $25. You can print out the membership form here. We also accept memberships via PayPal. Click on the membership link at the top of this page for more information. 
The Culinary Historians of Ann Arbor (CHAA), founded in 1983 by Jan Longone and friends, is an organization of scholars, cooks, food writers, nutritionists, collectors, students, and others interested in the study of culinary history and gastronomy.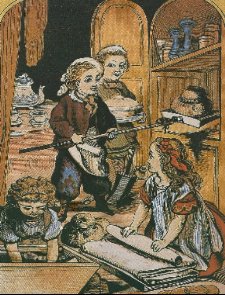 The mission of the group is to promote the study of culinary history through regular programs open to members and guests, through the quarterly publication Repast, and through exchanges of information with other such organizations.
Monthly meetings of the CHAA are normally held in Ann Arbor, Michigan, from September through May from 3:00-5:00 p.m. on the third Sunday of the month (unless otherwise announced). During the pandemic, meetings take place online on the third Sunday at 4 p.m.
Membership in CHAA is open to anyone interested in culinary history. Dues are $25.00 for an individual or couple and include a subscription to Repast. The membership year is from September to September. For those who cannot attend meetings, a yearly subscription to Repast is $20.00.
Repast is the official quarterly publication of CHAA. Besides announcements of future meetings and reports of past meetings, it also contains feature articles, book reviews, a calendar of upcoming events of culinary interest, and special events. For information about contributing articles, placing information, announcements, or other regular features, contact the Editor.