CHAA Meetings
The Culinary Historians of Ann Arbor generally meet on the third Sunday of the month at 4 p.m. Eastern, September through May. Meeting invitations are sent to members and other interested individuals, but all are welcome to attend. As the Covid pandemic continues, some of our meetings are held in person at the downtown Ann Arbor District Library and streamed on YouTube, and some are held online via Zoom. Please check this website for the date and location and format of each meeting, as these will vary. 
Members receive emailed information regarding meetings in advance and a reminder on the day of each meeting.
NEXT MEETING
Sunday, October 9, 4 p.m. Eastern
Ann Arbor District Library – Downtown
343 South Fifth Avenue – Google Maps
Ann Arbor, Michigan 48104
Also streaming live on YouTube here: https://aadl.org/node/609836
Ten Years of Culinary Delights from the International Museum of Dinnerware Design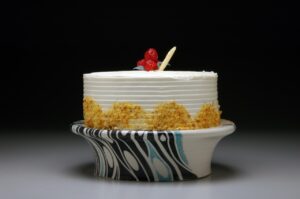 The International Museum of Dinnerware Design, established in 2012, collects, preserves and celebrates masterpieces of the tabletop genre created by leading artists and designers worldwide. Through its collections, exhibitions, and educational programming, it provides a window on the varied cultural and societal attitudes toward food and dining and commemorates the objects that exalt and venerate the dining experience. On its tenth anniversary, Margaret Carney, the director and curator of the museum, will share stories of delicious exhibitions, interweaving culinary delights along the way.
[Photo credit: Cake stand and cake by Dganit Moreno, part of the International Museum of Dinnerware Design juried "Cake" exhibition]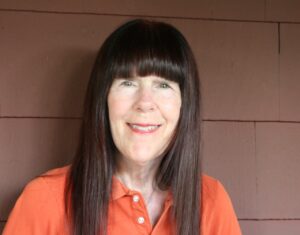 Margaret Carney, director of the IMDD, is a ceramic historian with a Ph.D. in Asian art history. She has taught ceramic world history at New York State College of Ceramics at Alfred University and elsewhere. She has spent her life curating exhibitions, lecturing and writing about ceramics and the related arts. Curated exhibitions of the IMDD include The Art of High Chair Fine Dining, Cake, Butter, Breakfast, and the upcoming 2023 invitational and juried exhibition Entomophagous Dining.
Find upcoming programs and links to past programs here.
Join Us
Our membership year runs from September to September. The annual membership is $25. You can print out the membership form here. We also accept memberships via PayPal. Click on the membership link at the top of this page for more information. 
The Culinary Historians of Ann Arbor (CHAA), founded in 1983 by Jan Longone and friends, is an organization of scholars, cooks, food writers, nutritionists, collectors, students, and others interested in the study of culinary history and gastronomy.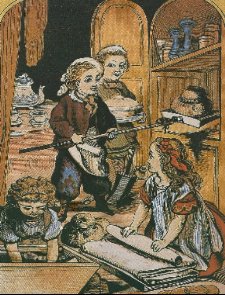 The mission of the group is to promote the study of culinary history through regular programs open to members and guests, through the quarterly publication Repast, and through exchanges of information with other such organizations.
Monthly meetings of the CHAA are normally held in Ann Arbor, Michigan, from September through May from 3:00-5:00 p.m. on the third Sunday of the month (unless otherwise announced). During the pandemic, meetings take place online on the third Sunday at 4 p.m.
Membership in CHAA is open to anyone interested in culinary history. Dues are $25.00 for an individual or couple and include a subscription to Repast. The membership year is from September to September. For those who cannot attend meetings, a yearly subscription to Repast is $20.00.
Repast is the official quarterly publication of CHAA. Besides announcements of future meetings and reports of past meetings, it also contains feature articles, book reviews, a calendar of upcoming events of culinary interest, and special events. For information about contributing articles, placing information, announcements, or other regular features, contact the Editor.