CHAA Meetings
The Culinary Historians of Ann Arbor generally meet on the third Sunday of the month at 4 p.m. Eastern, September through May. Meeting invitations are sent to members and other interested individuals, but all are welcome to attend. Some of our meetings are held in person at the downtown Ann Arbor District Library and streamed on YouTube, and some are held online via Zoom. Please check this website for the date and location and format of each meeting, as these will vary. 
Members receive emailed information regarding meetings in advance and a reminder on the day of each meeting.
Non-members: To receive a reminder of this month's meeting, please register here.
NEXT MEETING
Sunday, October 15, 4 – 5:30 pm
Ann Arbor District Library, 343 S. Fifth Ave, Ann Arbor
Multi-purpose Room, Lower Level
also online via YouTube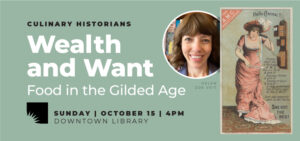 WEALTH AND WANT: FOOD IN THE GILDED AGE
The Gilded Age was defined by extremes of wealth and want, and those extremes played out dramatically in the ways Americans ate. For the elite, daily meals were extravagant and formal banquets became complicated rituals of luxury and intentional waste.
While a wealthy minority feasted, many other Americans struggled to feed themselves, and hunger and misery were widespread among the rural poor and those in city slums. This lecture will explore the fascinating world of food in the American Gilded Age through its banquet menus, cookbooks, etiquette guides, and a rare look into the eating habits of the poorest Americans.
About our speaker
Find upcoming programs and links to past programs here.
Our membership year runs from September to September. The annual membership is $25. You can print out the membership form here. We also accept memberships via PayPal. Click on the membership link at the top of this page for more information. 
The Culinary Historians of Ann Arbor (CHAA), founded in 1983 by Jan Longone and friends, is an organization of scholars, cooks, food writers, nutritionists, collectors, students, and others interested in the study of culinary history and gastronomy.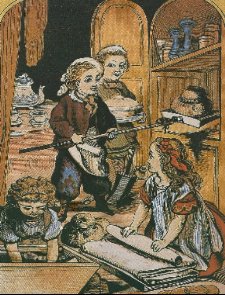 The mission of the group is to promote the study of culinary history through regular programs open to members and guests, through the quarterly publication Repast, and through exchanges of information with other such organizations.
Monthly meetings of the CHAA are normally held in Ann Arbor, Michigan, from September through May on the third Sunday of the month at 4 p.m. (unless otherwise announced). During the pandemic, meetings take place online and/or in person.
Membership in CHAA is open to anyone interested in culinary history. Dues are $25.00 for an individual or couple and include a subscription to Repast. The membership year is from September to September. For those who cannot attend meetings, a yearly subscription to Repast is $20.00.
Repast is the official quarterly publication of CHAA. Besides announcements of future meetings and reports of past meetings, it also contains feature articles, book reviews, a calendar of upcoming events of culinary interest, and special events. For information about contributing articles, placing information, announcements, or other regular features, contact the Editor.