Winter/Spring 2021 Programs: Bonbons, Baking Powder and Barbecue 
See all upcoming programs here.
At present, the Culinary Historians are meeting via Zoom instead of in person at Malletts Creek Library. Meetings generally take place on the third Sunday of the month at 4 p.m. Meeting invitations are sent to interested members, but all are welcome to attend. 
Next Meeting: Sunday, April 18, 4:00 p.m. EDT Online via Zoom
Register to receive a link to the meeting one hour prior to its start. Link will also be available on the Ann Arbor District Library website at 3:45 p.m. on April 18. 
Black Smoke: African Americans and the United States of Barbecue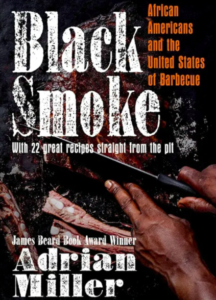 Across America, the pure love and popularity of barbecue cookery has gone through the roof. Prepared in one regional style or another, in the South and beyond, barbecue is one of the nation's most distinctive culinary arts. And people aren't just eating it; they're also reading books and articles and watching TV shows about it. But why is it, asks Adrian Miller—admitted 'cuehead and longtime certified barbecue judge—that in today's barbecue culture African Americans don't get much love?
In Black Smoke, Miller chronicles how Black barbecuers, pitmasters, and restauranteurs helped develop this cornerstone of American foodways and how they are coming into their own today. It's a smoke-filled story of Black perseverance, culinary innovation, and entrepreneurship. Though often pushed to the margins, African Americans have enriched a barbecue culture that has come to be embraced by all. Miller celebrates and restores the faces and stories of the men and women who have influenced this American cuisine.
About our speaker
Adrian Miller is a food writer, attorney and certified barbecue judge who lives in Denver, CO. He is currently the executive director of the Colorado Council of Churches. Adrian previously served as a special assistant to President Bill Clinton with his Initiative for One America—the first free-standing office in the White House to address issues of racial, religious and ethnic reconciliation. He has also been a board member of the Southern Foodways Alliance.
His first book, Soul Food: The Surprising Story of an American Cuisine, One Plate at a Time, won the James Beard Foundation Award for Scholarship and Reference in 2014. His second book, The President's Kitchen Cabinet: The Story of the African Americans Who Have Fed Our First Families, From the Washingtons to the Obamas was published on President's Day, 2017. It was a finalist for a 2018 NAACP Image Award for "Outstanding Literary Work—Non-Fiction," and the 2018 Colorado Book Award for History.
In 2018, Adrian was awarded the Ruth Fertel "Keeper of the Flame Award" by the Southern Foodways Alliance in recognition of his work on African American foodways. In June 2019, Adrian lectured in the Masters of Gastronomy program at the Università di Scienze Gastronomiche (nicknamed "Slow Food University") in Pollenzo, Italy. His third book, Black Smoke: African Americans and the United States of Barbecue will be published Spring 2021.
Website:  www.soulfoodscholar.com
Facebook: Soul Food Scholar Fan Page
Instagram: @soulfoodscholar
Twitter: @soulfoodscholar
See the Winter/Spring program schedule here.
Join Us!
Our membership year runs from September to September. The annual membership is $25. You can print out the membership form here. We also accept memberships via PayPal. Click on the membership link at the top of this page for more information. 
The Culinary Historians of Ann Arbor (CHAA), founded in 1983 by Jan Longone and friends, is an organization of scholars, cooks, food writers, nutritionists, collectors, students, and others interested in the study of culinary history and gastronomy.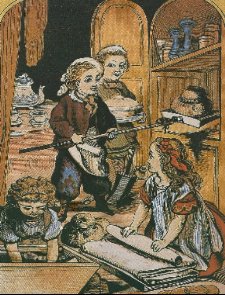 The mission of the group is to promote the study of culinary history through regular programs open to members and guests, through the quarterly publication Repast, and through exchanges of information with other such organizations.
Monthly meetings of the CHAA are normally held in Ann Arbor, Michigan, from September through May from 3:00-5:00 p.m. on the third Sunday of the month (unless otherwise announced). During the pandemic, meetings take place online on the third Sunday at 4 p.m.
Membership in CHAA is open to anyone interested in culinary history. Dues are $25.00 for an individual or couple and include a subscription to Repast. The membership year is from September to September. For those who cannot attend meetings, a yearly subscription to Repast is $20.00.
Repast is the official quarterly publication of CHAA. Besides announcements of future meetings and reports of past meetings, it also contains feature articles, book reviews, a calendar of upcoming events of culinary interest, and special events. For information about contributing articles, placing information, announcements, or other regular features, contact the Editor.