CHAA Meetings
The Culinary Historians of Ann Arbor generally meet on the third Sunday of the month at 4 p.m. Eastern, September through May. Meeting invitations are sent to members and other interested individuals, but all are welcome to attend. Some of our meetings are held in person at the downtown Ann Arbor District Library and streamed on YouTube, and some are held online via Zoom. Please check this website for the date and location and format of each meeting, as these will vary. 
Members receive emailed information regarding meetings in advance and a reminder on the day of each meeting.
NEXT MEETING
The Kitchen Front in World War II: Home gardens, rationing and eating for victory
Date & Time: Sunday, July 9, 4-7 p.m.
Location: Ladies' Literary Club, 218 N Washington St., Ypsilanti, MI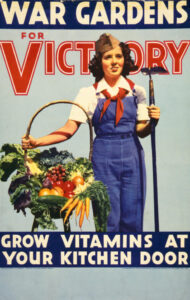 During the war years in the U.S., Canada and Britain, home cooks had to rise to the challenge of making tasty, filling, nutritious meals with available ingredients. Some foods were rationed (meat, butter, sugar, eggs) and some entirely disappeared (yes, we have no bananas!). People were encouraged to grow their own produce, pick berries, catch fish, raise chickens and even hunt rabbits.
Wartime dishes included stews; baked fish and fish pies; meat, fruit and vegetable pies; soups; baked beans; cheese and sausages; breads and cakes, not to mention the many "mock" dishes like mock duck, mock chicken, and mock turtle soup. Housewives and home economists shared tips on how to stretch or find substitutes for rationed items like meat and butter.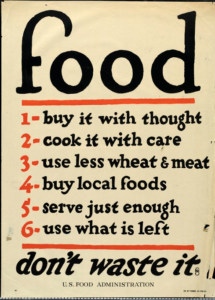 Let's see if our 21st century ingenuity and imagination can match those on "the kitchen front" in World War II as we prepare a delicious summer meal from the cupboards and pantries, fields and gardens, lakes and streams.
This is an event for our members and their guests only.
More information and the registration form is available here.
Find upcoming programs and links to past programs here.
Our membership year runs from September to September. The annual membership is $25. You can print out the membership form here. We also accept memberships via PayPal. Click on the membership link at the top of this page for more information. 
The Culinary Historians of Ann Arbor (CHAA), founded in 1983 by Jan Longone and friends, is an organization of scholars, cooks, food writers, nutritionists, collectors, students, and others interested in the study of culinary history and gastronomy.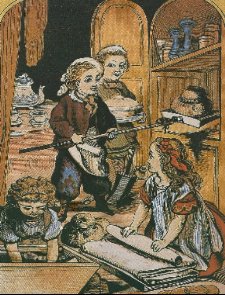 The mission of the group is to promote the study of culinary history through regular programs open to members and guests, through the quarterly publication Repast, and through exchanges of information with other such organizations.
Monthly meetings of the CHAA are normally held in Ann Arbor, Michigan, from September through May on the third Sunday of the month at 4 p.m. (unless otherwise announced). During the pandemic, meetings take place online and/or in person.
Membership in CHAA is open to anyone interested in culinary history. Dues are $25.00 for an individual or couple and include a subscription to Repast. The membership year is from September to September. For those who cannot attend meetings, a yearly subscription to Repast is $20.00.
Repast is the official quarterly publication of CHAA. Besides announcements of future meetings and reports of past meetings, it also contains feature articles, book reviews, a calendar of upcoming events of culinary interest, and special events. For information about contributing articles, placing information, announcements, or other regular features, contact the Editor.