FALL MEETINGS SCHEDULED
This fall, we are meeting via Zoom instead of in person at Malletts Creek Library. Meetings generally take place on the third Sunday of the month at 4 p.m. Meeting invitations will be sent to interested members.  
If you would like to receive a link to the Zoom meeting on Sunday, December 6, please provide your email address on this form.
Sunday, December 6, 4 p.m. Online
[PLEASE NOTE: This month only our meeting date will be on the first Sunday in December.]
All Stirred Up: Suffrage Cookbooks, Food, and the Battle for Women's Right to Vote with Laura Kumin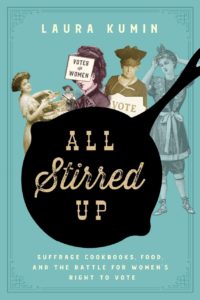 Celebrating the 100th anniversary of the Nineteenth Amendment, which guaranteed women the right to vote, All Stirred Up reveals a new side to the history of the suffrage movement.
Laura Kumin's book acknowledges the familiar images of the women's suffrage movement: picket signs, flowers and women in white marching through the streets, but demonstrates how much more there was to the movement. Ever courageous and creative, suffragists also carried their cause into America's homes through cookbooks and food.
Laura Kumin spent decades as a lawyer before she became an author, teacher and cooking coach. Her specialty is combining history/culture and cooking, with an eye toward illuminating the little-known corners of a historical period or movement. Laura is the author of two books in that genre: All Stirred Up: Suffrage Cookbooks, Food, and the Battle for Women's Right to Vote and The Hamilton Cookbook: Cooking, Eating & Entertaining in Hamilton's World.
At her blog, Mother Would Know, Laura encourages readers to become confident and creative home cooks. Her articles have appeared in The Washington Post, USA Today, and the Huffington Post. Laura has done podcasts and programs for a variety of audiences and groups, including the National Press Club and Tudor Place, a National Historic Landmark.
View a sneak preview of Laura's presentation on Instagram.
Sunday, January 17, 4:00 p.m. Online
Sweet Greeks: First Generation Immigrant Confectioners in the Heartland with Ann Flesor Beck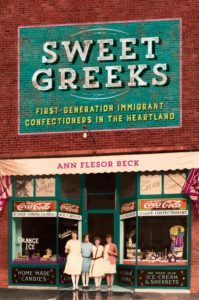 Gus Flesor came to the United States from Greece in 1901. His journey led him to Tuscola, Illinois, where he learned the confectioner's trade and opened a business that still stands on Main Street. Sweet Greeks sets the story of Gus Flesor's life as an immigrant in a small town within the larger history of Greek migration to the Midwest. 
Ann Flesor Beck's charming personal account recreates the atmosphere of her grandfather's candy kitchen with its odors of chocolate and popcorn and the comings-and-goings of family members. "The Store" represented success while anchoring the business district of Gus's chosen home. It also embodied the Midwest émigré experience of chain migration, immigrant networking, resistance and outright threats by local townspeople, food-related entrepreneurship, and tensions over whether later generations would take over the business. 
An engaging blend of family memoir and Midwest history, Sweet Greeks tells how Greeks became candy makers to the nation, one shop at a time.
Ann Flesor Beck is a third-generation Greek confectioner and independent scholar. She holds a PhD from the University of Illinois. With her sister, she co-owns and operates Flesor's Candy Kitchen in Tuscola, Illinois.
See all upcoming programs here.
Our membership year runs from September to September. The annual membership is $25. You can print out the membership form here.
The Culinary Historians of Ann Arbor (CHAA), founded in 1983 by Jan Longone and friends, is an organization of scholars, cooks, food writers, nutritionists, collectors, students, and others interested in the study of culinary history and gastronomy.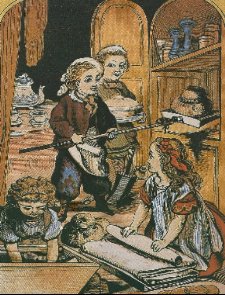 The mission of the group is to promote the study of culinary history through regular programs open to members and guests, through the quarterly publication Repast, and through exchanges of information with other such organizations.
Monthly meetings of the CHAA are held in Ann Arbor, Michigan, from September through May from 3:00-5:00 p.m. on the third Sunday of the month (unless otherwise announced).
Membership in CHAA is open to anyone interested in culinary history. Dues
are $25.00 for an individual or couple and include a subscription to Repast. The membership year is from September to September. For those who cannot attend meetings, a yearly subscription to Repast is $20.00.
Repast is the official quarterly publication of CHAA. Besides announcements of future meetings and reports of past meetings, it also contains feature articles, book reviews, a calendar of upcoming events of culinary interest, and special events. For information about contributing articles, placing information, announcements, or other regular features, contact the Editor.