CHAA Meetings
The Culinary Historians of Ann Arbor generally meet on the third Sunday of the month at 4 p.m. Eastern, September through May. Meeting invitations are sent to members and other interested individuals, but all are welcome to attend. As the Covid pandemic continues, some of our meetings are held in person at the downtown Ann Arbor District Library and streamed on YouTube, and some are held online via Zoom. Please check this website for the date and location and format of each meeting, as these will vary. 
Members receive emailed information regarding meetings in advance and a reminder on the day of each meeting.
NEXT MEETING
Sunday, January 15, 4 p.m. Eastern
Online via Zoom and streaming live on YouTube [https://aadl.org/node/611759]
Register to receive the link to the Zoom meeting the day of the event.
Sourdough Culture: A History of Breadmaking from Ancient to Modern Bakers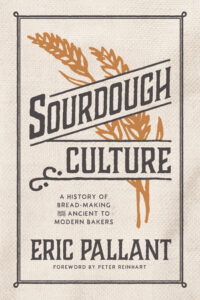 For at least 6000 years, people have summoned sourdough starter seemingly out of the air and combined it with milled wheat, water and a dash of salt to produce "the staff of life": bread. Professor Eric Pallant takes us on a 6,000-year journey through history as we learn why bread (and not the slicer) was the greatest invention of all time. We will meet ancient Egyptian pyramid builders, bygone Roman bakers, medieval housewives, Gold Rush miners, and historical figures like Plato, Pliny the Elder and Marie Antoinette.
Bread fell into deserved disrespect at the end of the twentieth century. Commercial yeast displaced sourdough as bread's primary leavening agent. Machines replaced hands as the tools of manufacture and economics took the place of flavor. Pale squishy loaves marched forth by the millions looking and tasting like they were made by a photocopier. Fortunately, today we are seeing the rise of a new artisanal bread culture as modern bakers are remaking our bread economy and repurposing our fundamental human connection with food.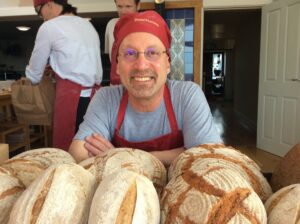 About the speaker:
Eric Pallant is the author of Sourdough Culture: The History of Bread Making from Ancient to Modern Bakers (2021). He is a serious amateur baker, a two-time Fulbright Scholar, award-winning professor and the Christine Scott Nelson Endowed Professor of Environmental Science and Sustainability at Allegheny College, in Meadsville, Pennsylvania. He is acknowledged for his skill in weaving research narratives into compelling stories for NPR, CNN, Foreign Policy, the Gresham Lecture Series, London, bread symposia, podcasts and articles for magazines such as Gastronomica, Sierra and Science.
Find upcoming programs and links to past programs here.
Our membership year runs from September to September. The annual membership is $25. You can print out the membership form here. We also accept memberships via PayPal. Click on the membership link at the top of this page for more information. 
The Culinary Historians of Ann Arbor (CHAA), founded in 1983 by Jan Longone and friends, is an organization of scholars, cooks, food writers, nutritionists, collectors, students, and others interested in the study of culinary history and gastronomy.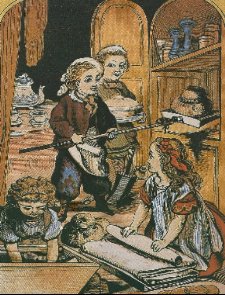 The mission of the group is to promote the study of culinary history through regular programs open to members and guests, through the quarterly publication Repast, and through exchanges of information with other such organizations.
Monthly meetings of the CHAA are normally held in Ann Arbor, Michigan, from September through May on the third Sunday of the month at 4 p.m. (unless otherwise announced). During the pandemic, meetings take place online and/or in person.
Membership in CHAA is open to anyone interested in culinary history. Dues are $25.00 for an individual or couple and include a subscription to Repast. The membership year is from September to September. For those who cannot attend meetings, a yearly subscription to Repast is $20.00.
Repast is the official quarterly publication of CHAA. Besides announcements of future meetings and reports of past meetings, it also contains feature articles, book reviews, a calendar of upcoming events of culinary interest, and special events. For information about contributing articles, placing information, announcements, or other regular features, contact the Editor.